Online Scheduler
Click on the link below to schedule your child's SEP Conference.  The Online Scheduler window is from Saturday, February 15-29
Online Scheduler Instructions: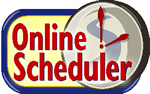 PTA Information
Emerson PTA
The Emerson PTA strives to create educational enrichment opportunities for the students, financial support and volunteer coordination for the teachers, and fosters an overall positive school community for parents, teachers, and students.  Emerson is a unique school full of cultural, developmental and economic diversity.  By supporting the PTA, you support parents who want this school to be a positive experience for everyone involved. Please join us by attending organization meetings the first Wednesday of each month at 6:30pm in the Emerson Library (children welcome) or signing up for communication using MemberHub:   https://emersonslc.memberhub.com/join/l6y7sq
JOIN MEMBER HUB: https://emersonslc.memberhub.com/join/l6y7sq
LOG IN TO MEMBER HUB: https://emersonslc.memberhub.com/
BUY SPIRIT WEAR OR DONATE TO MOVE & GROOVE FUNDRAISER: https://emersonslc.memberhub.store/
Events Hosted by PTA
•          Back to School BBQ
•          Spiritware
•          Walk-a-thon fund raiser (Move and Groove)
•          School Garden
•          Vision/Hearing screening support
•          Book Fairs (library fundraiser)
•          'Reflections' Art Contest
•          Student field trips - bus fare
•          Classroom supplies
•          Dia de los muertos fiesta (cultural celebration)
•          Teacher support for SEP conferences
•          STEM night
•          Birthday Bulletin boards
•          Classroom Communication tools
•          Food Recovery Program
•          Angle Tree (holiday giving)
•          Emerson Eaglet Newsletter 
•          Healthy child month
•          End of school carnival
•          End of school field day
•          Teacher Appreciation week
•          Yearbook
Executive Board 2019-20
President Co-Chairs: Beth Mills Jennings (bethanymjennings@gmail.com)
Vice President: vacant
Secretary: Heidi Schubert  (suninsaltlake@gmail.com)
Treasurer: Jamie Mackey  (jamiereck@gmail.com)
Administrative VP: April Reynolds, Principal
Teacher Rep: Amy Nelson
PTA Email: emerson.pta01@gmail.com
ELP Testing
The Salt Lake City School District's elementary Extended Learning Program (ELP) provides gifted educational services for identified gifted and high ability Kindergarten through grade eight students. As part of the eligibility identification process for the 2020-21 school year, parents of pre-k through grade seven students may choose to have their child evaluated. This evaluation consists of both cognitive and academic assessments.
Students qualifying for a Magnet ELP placement have shown that they need an academic program that allows them to move more quickly, work with more complex concepts, and delve more deeply into academic content.
ELP services are available at all district elementary schools, with full-day Magnet classes at Emerson (dual immersion), Hawthorne, and Whittier Elementary schools. Testing is for the program, not a specific school. Parents of eligible students may make a first, second, and third choice of school, but placement at a specific school is not guaranteed.
Please apply online on the ELP district website, You may contact Anneli Segura, ELP Administrative Assistant, at 801-578-8573.
Calendar at a glance
 Calendar at a Glance. Calendar is subject to change!
DAY CARES SERVING EMERSON
When choosing a day care for your child, you may want to ask them about transportation.  A few examples of questions are:  where is the pick up and drop off area, do they prefer morning or full day for kindergarten, do they transport early for breakfast or do they serve it at their center?  Visit the center at different times of the day, ask about activities, policies, etc.  Below are listed the day cares that have served Emerson.
ARTFIRST, 1549 S 1100 E. ‑ 84105, 801-467-5278
BOYS AND GIRLS CLUB, 968 SUGARMONT DR. ‑ 84106, 801-466‑1540   
DEVLINS, 2156 S 1000 EAST ‑ 84106 , 801-486‑3545  
FUNTIME, 1248 S 300 EAST – 84105, 801-467‑9988   
JEWISH COMMUNITY CENTER (JCC) , 2 N MEDICAL DR. – 84113, 801-581‑0098     
LITTLE SCHOLARS DAYCARE,  653 SIMPSON AVE - 84106, 801-467-8545  
MISS BILLIES/KIDS CAMPUS, 232 W 800 S – 84105 , 801-322-5683                                                                   
MONTESSORI, 1303 S 1100 EAST ‑ 84105, 801-467‑6024     
PLAYHOUSE DAY CARE, 1740 S 1100 EAST – 84105, 801-487-6679
SL COMM. ED. EXTENDED DAY, EMERSON SCHOOL through our District Community Ed Dept, 801-578-8275
ST JOHN'S COMM CHILD DEV,   475 E HERBERT AVE ‑ 84111, 801-364-4874
ZANIAC, 1045 E 2100 S – 84106,  801-997-8580
YOUTH CITY (4-14), 615 S 300 EAST – 84111, 801-535-6129  
 Liberty location-Emerson students, John Lyman 801-533-0485                                                                   
Registration 2019-20
Registration for 2019-20
August 6, 2019 from 12:00-7:00
Step 1: Complete the online registration.  
Step 2: Print the signature page and bring it to the office along with your proof of residency (i.e. utility bill, rental agreement). New students will need 2 proofs of residency, original birth certificate, immunization records, and photo ID of registering parent.  ONLY COMPLETE registration will be accepted.
You may register from the link on our website: https://emerson.slcschools.org. If you do not have access to the internet or would like to complete the online registration at our school we will have a computer available. 
If you plan to apply for FREE/REDUCED lunch, you will need to apply any time beginning July 1, 2019.  You are responsible for any charges made prior to application approval.
***As a reminder, ALL DOCUMENTS MUST BE SUBMITTED before your child will be placed in a class and attend school. We will not accept incomplete registration. (i.e. signature page only, etc.)***
In the event the district makes policy changes that will require parent signature or acknowledgement, we will send notification in August and ask that it be initialed and returned to school.
School begins Mon. Aug. 19th.
If you have any questions, please call the office at 801-481-4819.
Emerson Office Staff
Emerson's Community Garden
Emerson has an amazing community garden and if you are interested in  volunteering or donating please visit Emerson's Community Garden website.
Eureka Math
Eureka Math Parent Resources
Your involvement in your child's education can have a significant impact on his or her success in school.  That is why the teacher-writers who developed the curriculum, also created a suite of parent support resources that will help you support your child at homework time. These resources include:
• Homework Helpers — A grade-level resource that provides step-by-step explanations of how to work problems similar to those found in Eureka Math homework assignments. There is a Homework Helper to go with every homework assignment in the curriculum.
• Parent Tip Sheets — Topic-level tip sheets that explain math strategies and models provide key vocabulary, sample problems, and links to useful videos.
Watch for a Eureka Math parent letter to come home with your student.  This resource will provide step-by-step directions on how you can create an online account so that you can start accessing these fantastic resources.
Volunteering
Please look under Policies and Procedures for new information on HB175 regarding volunteering.  Contact April Reynolds for addtional information if needed.